Chapter 7
Chapter 13
Testimonials


"Mr. Long eliminated my stress regarding filing bankruptcy, answered all of my questions, and filed my documents with the court within just 2 days! He made the procedures to filing very easy for me without any added stress."
-Mrs. H


"They are great at what they do. Mr. Burnett helped me through my bankruptcy step by step. They are down to earth, kind and affordable. You know when you walk in that you aren't just a number. They actually care."
-Ms. B
Bankruptcy Lawyer Reviews Nashville, TN
Long, Burnett, and Johnson, PLLC
So you're on the hunt to find a Nashville bankruptcy lawyer who can give you some guidance and potentially take some action for the money-related predicament you're in. This could be the answer if you are in the thick of credit card debt, faced with foreclosure or dealing with any of the many other difficult financial situations that exist, from student loan debt to medical debt. Checking bankruptcy attorney ratings in Nashville is just one of the ways to find the best lawyer to help you get out of a difficult financial situation where it feels like there's no hope.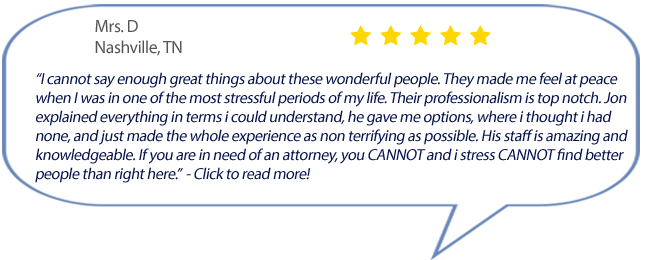 What Do You Look For In a Bankruptcy Lawyer?
Surely, certain characteristics will set some bankruptcy attorneys apart from others. So what are these characteristics? Here are some major aspects of a quality bankruptcy lawyer for you to consider:
Focus: Some firms split their time, lawyers and resources between different types of law. But a firm that focuses on this one area of law will provide you with the best experience.
Experienced Professionals: Of course, you want your bankruptcy attorney to know what he's doing. It's important to find someone with the education and experience that will enable the lawyer to carry out the law services you need from him, such as providing a consultation on your options and filing for bankruptcy.
Reviews and Testimonials: There's nothing like client testimonials and reviews from area residents who have had real experiences with the attorneys you're wondering about. Reviews can give you a feel for how the particular lawyers have helped real people with the same kinds of situations you're facing.
Cost: Some attorneys charge a fortune just to talk, and then you pay more for every visit and action they take on your part. Cost is definitely something to consider because you need to make sure you can fit the attorney fees into your budget, especially when you are going through a difficult financial situation.
Extra Touches: Then, there are the intangibles. Some offices just stick out from the crowd and provide a better experience than others. Once you go for your first visit, you'll really get a feel for the client experience at a certain law firm. But this is also something you can pick up on in advance from how the attorneys present themselves online and by Nashville bankruptcy attorney reviews from real clients.
Finding a Lawyer With the Right Qualities
Once you know what to look for, you need to perform research to find a local bankruptcy lawyer who fits the bill. The attorneys at Long, Burnett and Johnson can offer all of the characteristics that will help you with your money troubles. This is how these attorneys fit each important characteristic:
Focus: The lawyers at Long, Burnett, and Johnson, PLLC focus their entire practice on financial problems and nothing else. They help their clients come up with solutions for a myriad of financial concerns, including medical debt, payday loan debt and student loan debt.
Experienced Professionals: These lawyers have extensive professional experience under their belts. Jon D. Long brings a total of almost 25 years of professional experience in multiple professions to the table, while Lewis G. "Buddy" Burnett, Jr. offers over 35 years of legal experience, much of this practicing bankruptcy law. Jennifer L. Johnson has helped hundreds of clients through bankruptcy and has focused her legal practice on bankruptcy since she began practice.  They have all focused their careers in financial concerns.
Reviews and Testimonials: You can see that this law office has built up many bankruptcy lawyer reviews and testimonials from local clients, who commend the practice for helping them get out of their financial woes in a friendly and affordable way.
Cost: To begin with, you are able to schedule a consultation that is absolutely free. This gives you the chance to talk directly with a lawyer about your financial problems and potential solutions. That way, you won't pay anything until you fully understand your options and how the services this law firm offer could help your individual financial situation. The lawyers allow this first visit to take as long as is needed for no cost. After that initial visit, Long, Burnett and Johnson strive to give their clients affordable rates for their quality services.
Extra Touches: This Southern office doesn't think that a visit to a lawyer needs to be stuffy or stressful. These lawyers provide a completely relaxed environment without the stuffy suits, location headaches and other stresses of most law offices. And you can expect lawyers who take the time to get to know you and figure out how they could help your situation.
Now you can see that it's worth considering client reviews along with many other characteristics to find the right bankruptcy attorney.
Give the #1 rated bankruptcy firm in the area, Long, Burnett, and Johnson, PLLC, a call today at (615) 386-0075 to discuss your bankruptcy case!